For many years you have seen backpacks with the little red fox in the logo on many people's backs almost everywhere. This is the cult backpack with the complicated name, namely the Fjällräven Kånken.
But why are Fjällräven Kånken backpacks so popular? 
There are actually several valid reasons for this, which we will take a closer look at in this article.
Stay tuned, it's going to be interesting.
The history of Fjällräven Kånken
First some history. Because of course that is always part of it. Fjällräven is a Swedish company that was founded in 1960 and manufactures and sells outdoor equipment. So far so good.
The Kånken backpack was created in 1978 after Åke Nordin, the founder of Fjällräven, read in the newspaper that more and more Swedes, and especially the younger population, were suffering from back pain.
So he designed a backpack especially for school children, which should offer space for two DIN A4 folders as well as keys and pens. The backpack should also be robust and durable and withstand the rough everyday school life unscathed.
The Kånken backpack was born.
Today, the Fjällräven Kånken backpack is very popular with pretty much all age groups and is available in a variety of colors and sizes.
Despite its popularity, the Kånken backpack has retained its timeless, classic design and is still a popular choice for people who are looking for a sturdy and durable backpack, while still wanting a trendy brand.
Good to know:
The Swedish word "Fjällräven" means arctic fox. A curled up fox can also be found in the Fjällräven logo.
The Swedish word "Kånken" is derived from "kånka" and simply means "to carry or carry something around".
Simplicity and functionality are paramount
The Kånken backpack comes in a rather simple design and has comparatively few features. But it is precisely this simplicity, combined with high functionality, that makes the backpack so popular and timeless, among other things.
With the knapsack with the arctic fox you don't pay for unnecessary functions or features that are never used anyway.
Fjällräven Kånken bestseller
In the following list you will find Fjällräven Kånken backpack bestseller on Amazon. This list is updated daily so you can always see which models are currently being bought the most:
OFFER#1 BEST SELLER
OFFER#2 BEST SELLER
#3 BEST SELLER
#4 BEST SELLER
OFFER#5 BEST SELLER
OFFER#6 BEST SELLER
#7 BEST SELLER
#8 BEST SELLER
OFFER#9 BEST SELLER
Fjällräven Kanken Backpack, Navy, 38 cm*
Outer material: Vinylon-F: 100% polypropylene / fluorocarbon-free impregnation
Colour: Navy / Dimensions (WxHxD): 27x38x13cm / Volume: 16 litres
water-repellent / quick-drying / durable
offer#10 BEST SELLER
Size and equipment are perfect for many people
The Kånken can best be described as an everyday backpack that is often used as a daypack in cities.
As an everyday backpack, the classic Kånken with its 16 liter volume is simply the perfect size and features for many people. In our article How many liters does a Fjällräven Kånken backpack have? " you can find out how much volume the different Kånken models have, because there are actually some differences.
Why should you burden yourself in everyday life with a huge backpack full of loops, straps and compartments that are never used anyway?
Useful gimmick: Removable seat cushion
The Kånken backpack has a removable seat cushion that also serves as a back pad. This prevents the contents of the backpack from pressing uncomfortably on the back.
If you are out and about with the Kånken in your free time and want to take a break, you can simply remove the seat cushion and sit on it.
This makes the backpack an ideal companion for a stroll through town or a trip to the park. With Kånken included, you can sit pretty much anywhere you want. This is extremely practical, especially in summer.
Quality and material are convincing across the board
A feature that almost all Kånken owners point out positively is the excellent quality and the very robust material. This backpack really does a lot and shines with its long durability.
The classic Kånken backpack is made of durable Vinylon F, which also repels dirt and moisture. Vinylon F is a synthetic fiber that works like a natural fiber.
If the fibers get wet, they bulge and the fabric becomes denser. So they can withstand rain showers even without impregnation.
The Kanken No. 2 is made of robust G-1000, which is a tightly woven fabric made of 65% polyester and 35% cotton that can be adapted to different weather conditions thanks to Greenland Wax.
Sustainable through longevity
The excellent durability of the Kånken ensures that the backpack is sustainable. This is becoming more and more important these days. Because this backpack is here to stay and usually does not have to be replaced that often.
The timeless design inspires people of all ages
Of course, it's no coincidence that the Kånken looks pretty much the same today as it did in 1978. Because if you manage to develop a timeless design classic like Fjällräven, then it can last for many decades without any problems.
School children, teenagers or adults – Kånken manages to be loved by all age groups. It also cuts a fine figure as a university backpack .
But it really is a little gem that always cuts a fine figure.
Huge selection of colors, finishes and designs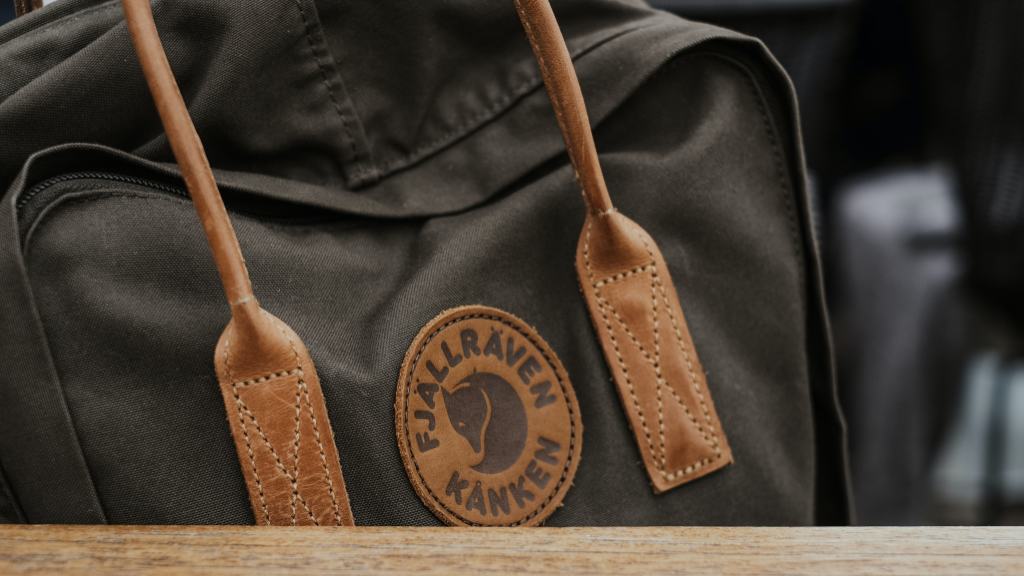 The shape of the Fjällräven Kånken backpack is more or less the same, but that doesn't mean that the backpack has to be boring.
But on the contrary. Because Fjällräven offers a huge selection of different colors and designs.
In addition to the wide range of colors, there are also a number of special editions with special color combinations, so that the Kånken never gets boring.
There are also different collections available with Kånken, Kånken Me, Kånken Mini, Kånken No.2 and Kånken Laptop (13, 15 and 17 inches), which not only differ in colour, but also in size and sometimes in material.
Scandinavian fashion is popular
Last but not least, the popularity of Kånken can also be explained by the popularity of Scandinavian brands.
Scandinavian fashion from Sweden, Norway and Denmark is very popular because of its cool minimalism and high functionality.
Popular Scandinavian brands include:
HM
Heliot Emil
Acne Studios
Arket
Bjorn Borg
COS
Fjallraven
Nudie jeans
peak performance
Filippa K
Ganni
and many more
Fjällräven is definitely in good company here.
Conclusion
Fjällräven Kånken backpacks are very popular because they have a timeless, classic design that never goes out of style.
They are made from robust, water-repellent G-1000 material or Vinylon F and have practical pockets and compartments that offer space for everything you need on the go.
Another reason why Fjällräven Kånken backpacks are so popular is that they come in a variety of colors and sizes, meaning there is an option for almost every taste and size.
They are very durable and often last for many years, making them a sustainable choice for many people.
Overall, Fjällräven Kånken backpacks are popular because they offer a combination of style, functionality and durability that appeals to many people.
So it's no coincidence that this cult backpack has so many fans around the world.